NOTICE
---
04.12.2020.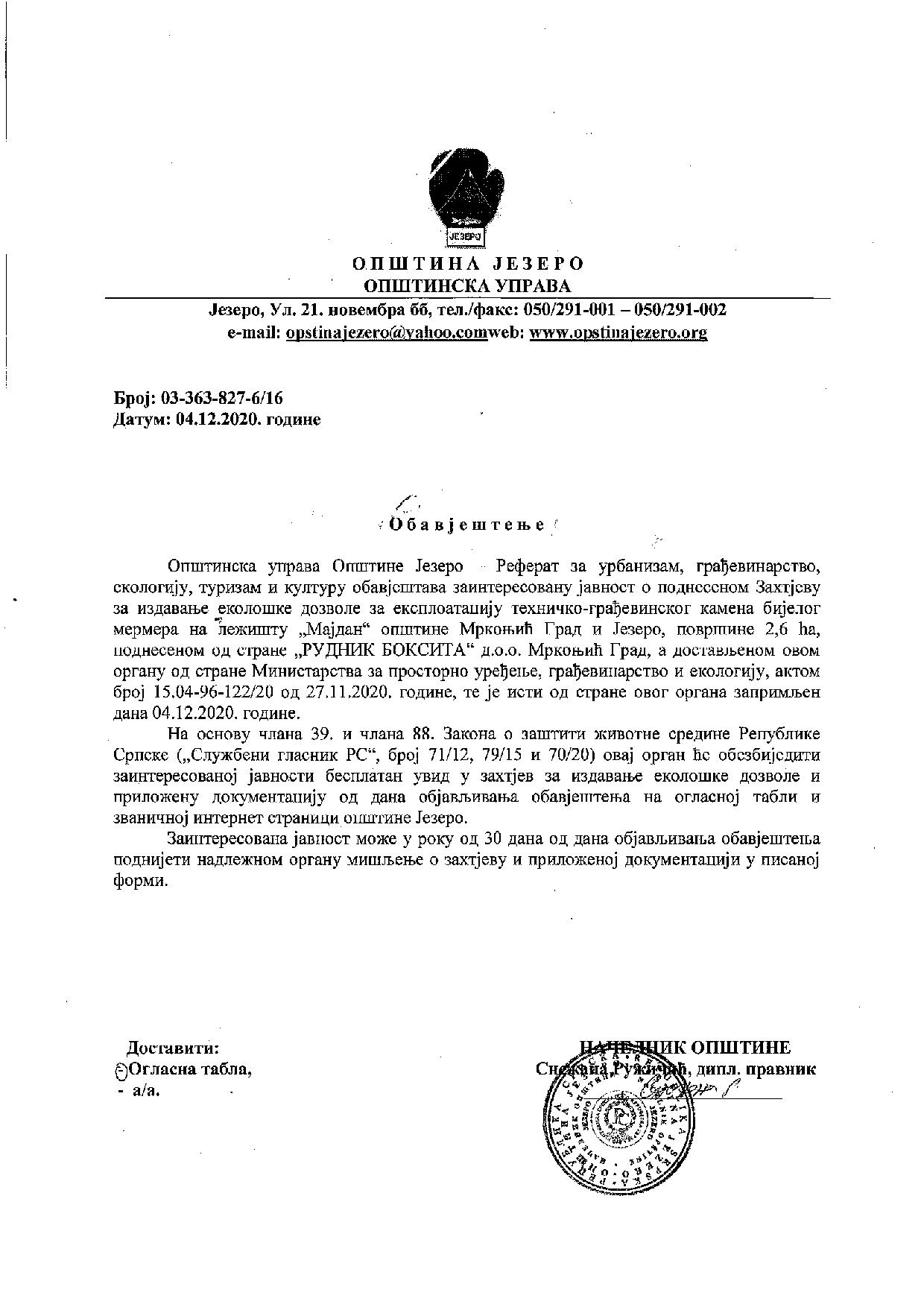 NOTICE
The Municipal Administration of Jezero Municipality - Office for Urbanism, Construction, Ecology, Tourism and Culture informs the interested public about the submitted request for issuing environmental permit for the exploitation of technical-building stone of white marble at the deposit "Majdan" of Mrkonjic Grad and Jezero, area 2.6 ha , submitted by "RUDNIK BOKSITA" d.o.o. Mrkonjić Grad, and submitted to this body by the Ministry of Physical Planning, Construction and Ecology, by act no. 15.04-96-122/20 dated 27 November 2020, and the same was received by this body on 4 December 2020.
According to Article 39 and Article 88 of the Law on Environmental Protection of the Republic ofSrpska ("Official Gazette of the Republic of Srpska", No. 71/12, 79/15 and 70/20), this body will provide the interested public with free insight into the application for an environmental permit and the attached documentation from the day of publishing the notice on the bulletin board on the official website of the Municipality of Jezero.
The interested public may, within 30 days from the day of publication of the notice, submit to the competent authority an opinion on the request and the attached documentation in writing.
The available documentation can be seen on the following links:
https://file///F:/%D0%A0%D1%83%D0%B4%D0%BD%D0%B8%D0%BA%20%D0%B1%D0%BE%D0%BA%D1%81%D0%B8%D1%82%D0%B0/Dokazi%20za%20izdavanje%20ekolo%C5%A1ke%20dozvole_Majdan.pdf
https://file///F:/%D0%A0%D1%83%D0%B4%D0%BD%D0%B8%D0%BA%20%D0%B1%D0%BE%D0%BA%D1%81%D0%B8%D1%82%D0%B0/Plan%20upravljanja%20otpadom.pdf